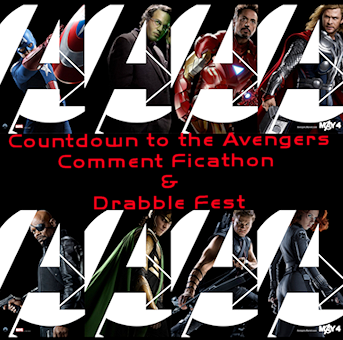 As we count down to the Avengers, let's celebrate! We're holding both a comment ficathon, and a drabble fest. Thanks to
arysani for the comment ficathon idea.

The Comment Ficathon
* Prompt on this post.
* Any and all ratings, pairings, and genres welcome.
* Please, no spoilers for the Avengers. Later this summer, we'll hold a ficathon that will be a spoiler fest.
* One prompt per comment, but the number of comments you can make is unlimited.
* Prompt responses should have a header with the usual basic info.

The Drabble Fest
* Post your drabble or ficlet to the community, using the 2012 Drabble Fest tag.
* Drabbles may contain spoilers for the Avengers, just be sure to use a cut and a spoiler warning.
* If you like, feel free to use any of the prompts left for the comment ficathon for inspiration.
* Include basic headers.

Questions? Please post them here. That way, I'll see them in my regular email, as opposed to the one for the LJ account I'm using here. Hopefully you'll receive a prompter response that way!


Feel free to promote using the code below:


There's also a collection on AO3 for the ficathon, if you'd like to archive your creations.